This is a sponsored post written by me on behalf of Tazo® Tea. All opinions are 100% mine.
I'll be the first to admit it — I'm not a morning person. I would much rather stay up late and sleep in all day. That being said, the days when I do get up early and have a healthy start to my day are the most productive days so I do strive for those types of days more often than not.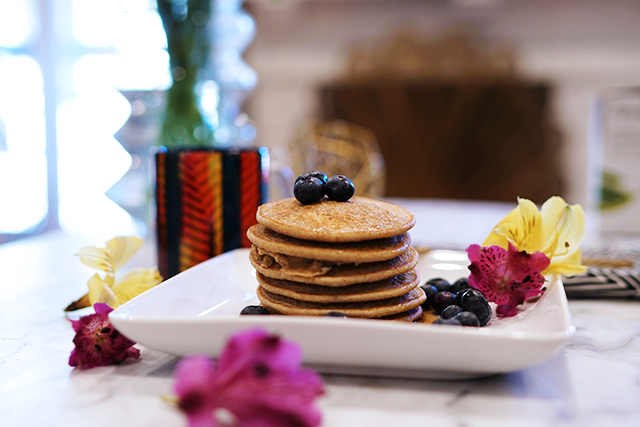 I used to avoid breakfast but I find that when I do eat it, I'm not starving by the time lunch rolls around and I do think I'm more focused. It also gives me a chance to take a breather before the day begins, when things are quiet and I can sit and check social media or review my calendar. These are the three breakfasts that I find to be the easiest to put together, not to mention they only really require 1 fresh produce item (bananas) — everything else can be in the freezer or pantry. This is perfect for those of you who aren't able to go to the grocery store every week and always have fresh produce (for some reason I also find this very difficult to obtain).

1. 3 Ingredient Pancakes
Ingredients:
1 1/2 cup rolled oats
1 cup almond milk
1 ripe (spotty) banana
(Optional): 1 tbsp coconut sugar and/or cinnamon (I like pumpkin spice seasoning)
Directions:
1. Blend everything in a blender to make a batter.
2. Pour onto a pan on medium heat, wait for bubbles to show on the pancakes then flip.
3. Top with maple syrup and (optional) fresh berries.
P.S. I use this griddle to cook the pancakes on, and I love it! Total game changer – can cook 6-8 at once.
2. Rolled Oats with Frozen Fruit & Maple Syrup
Ingredients:
1 Cup of rolled oats
1 handful of frozen fruit
Pure Maple Syrup
Directions:
1. Pour in just enough water to cover the oats.
2. Microwave 2-3 minutes (covered).
3. Stir in frozen berries.
4. Drizzle pure maple syrup on top.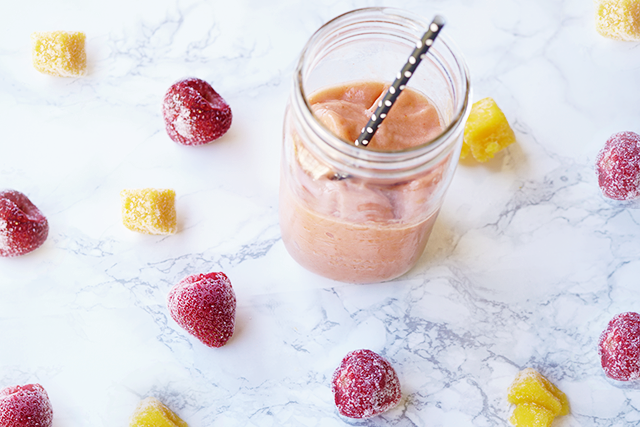 3. Tropical Smoothie
1 1/2 bananas (frozen or not)
1 handful frozen strawberries
1 handful of frozen mango
1 cup coconut water
Finally, I love drinking something warm in the morning as it wakes up my system and gives me a sense of comfort. Lately I've been drinking this Tazo Awake™ English Breakfast tea. I love it by itself, but sometimes I like to add unsweetened almond milk for a more creamy texture. (I learned that trick living in England for a month – and it's stuck with me for life!) I've found that Tazo® Tea has got an amazing bold and bright flavor which is hard to find (I'm a huge fan of their Passion® and Zen™ blends as well.)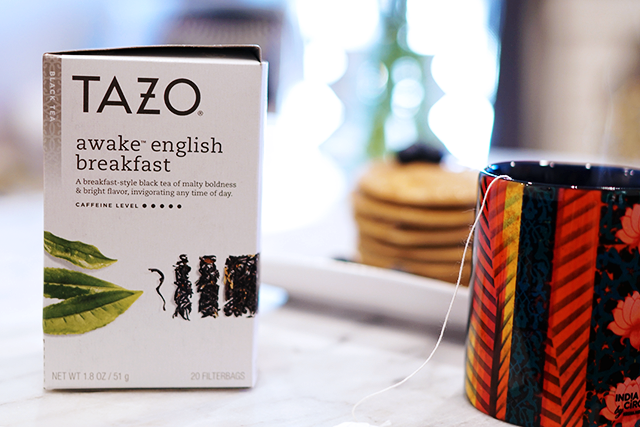 I hope you guys enjoy these three recipes, and let me know if you try them out!