I LOVE designer purses.  Now before you go on a tangent assuming that I'm dense or materialistic, let me explain why.  It is not merely about the brand, but more so the quality of the purse that has led me to this conclusion.
I received my first designer purse as a present from my parents when I got my first "big girl" job.  (It is a Marc by Marc Jacobs for the curious mind.)  I have had it for a year and a half now and you would never know it.  It looks as good as the first day I got it.  The leather is so thick and such a good quality that it has withstood my less-than careful antics with it.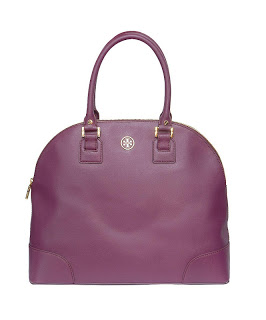 Which brings me to my next point… designer purses are.not.cheap.  You can occasionally find a good deal on a designer purse at TJ Maxx or Marshall's but a lot of times it's not that much of a discount or it has some sort of flaw.
 I am looking to broaden my collection and have found myself perusing my local Craigslist ads.  I am .02 seconds away from making my first designer purse purchase on Craigslist and I want to share with you all some tips I've gathered.
1.  Know what you're buying.
 Don't be fooled.  There are a LOT of fakes & replicas out there, especially on Craigslist.  Look to see if they give a specific name for the purse (almost all designer purses have a name such as "Michael Kors Hamilton").  I'd recommend popping into your nearest department store so you can hunt down the bag you are buying, feel it in your hands and thoroughly look at it.  That way when you get the Craigslist one, (before you hand over the dough) you can be sure it is authentic.  If you are unable to do that, at least look at detailed pictures online.
2. Look for red flags.
  Look for red flags such as "it was a gift, I'm not sure if it's real".  Also more often than not, the bag should come with an authentic dust bag.  It is also a plus if the previous owner has kept a receipt or tag for proof.  If they have neither of these, I would recommend taking it into the store with the seller to verify authenticity.
3. Make sure you see enough pictures.
If the seller has only posted one or two pictures of the bag, your internal alarm should go off.  Is the inside completely trashed?  What are they trying to hide?  Make sure you see all angles of the bag before you make an offer.  Inside, bottom, and closeups of the brand emblem are crucial.
4. Always negotiate.
Take it from someone who has SOLD on Craigslist before.  They are all posting a price that is higher than they are willing to sell it at.  Plus, they are probably desperate to sell it and sell it fast, so they will take what they can get.  I always try to talk down about $20.  This has worked every time for me.  Also make sure you're not over-paying.  You shouldn't pay more than $200 for a used designer purse

(unless of course we're talking Chanel or Hermes).  Use your best judgement.
5. Be Safe!
And most importantly, be safe.  Always meet in a public place.  (I understand meeting at homes for furniture, but this is a small item and there is no excuse).  Try to bring a friend along with you, and be alert!  If you feel uncomfortable in a situation, it's not worth it. 
So there are my tips.  How do you guys feel about buying designer items on Craigslist?  Do you have any tips I didn't mention? If you're looking for an affordable wallet for your purse, Put Your Photo on Wallet for a fun, personal touch to an every day item.