I posted this tortilla soup on instastories a few days ago and so many of you wanted the recipe. If it wasn't for a friend of mine recommending I looked into something like Mission food recipes, I don't even think I would have attempting this meal. But I am so glad I gave it a go. You guys would be missing out on this tortilla soup! I figured I would post it here so it's easy to refer back to. You guys, this soup is so cozy, filling, and full of flavor it honestly blew my mind. I'm not a typical "soup" person because I'm a hungry hippo and like to scarf down my food quickly, but this soup might have changed my mind. I did not plan to post this, so please excuse the lack of photos. I do plan on sharing a few recipes throughout the month in the future, so stay tuned!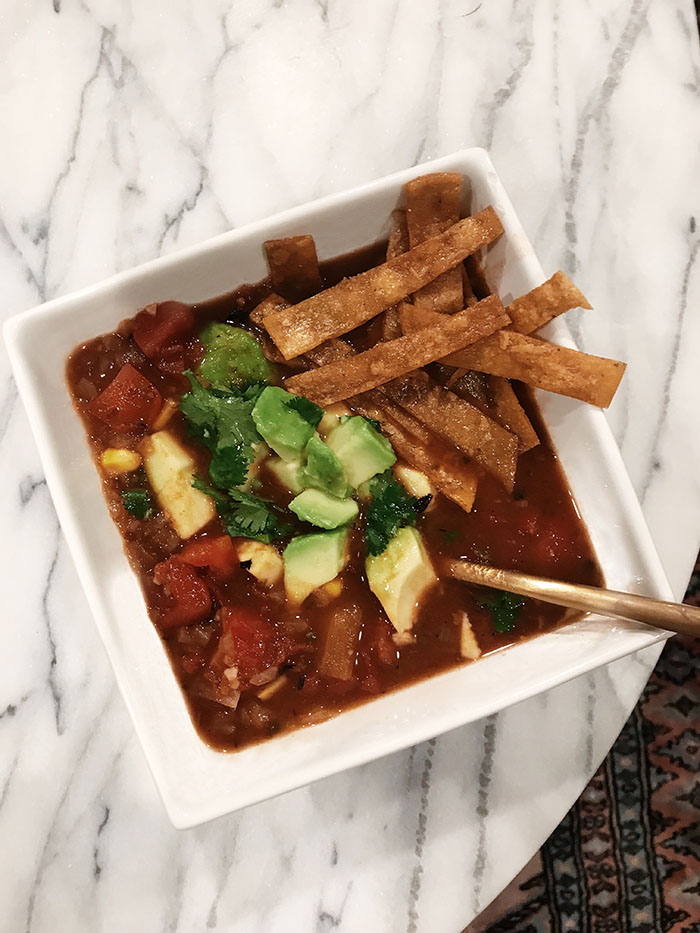 Makes 2 Servings | 30 Minutes
Ingredients:
Olive Oil
1 dried ancho chile
1 onion
2 garlic cloves
1 can pinto beans
2 tsp cumin
1 tsp dried oregano
1 can fire roasted crushed tomatoes
1/2 cup corn
3 yellow corn tortillas
1 avocado
cilantro
1 lime
Instructions:
Destem & Deseed ancho chile, then add to a pot with 3 cups of water. Boil, reduce heat to low, and cover until step 3. Peel & dice the onion, mince the garlic. (I used half of the onion, which I found to be the perfect amount). Drain and rinse the pinto beans.
Place a large pot over medium-high heat with 2 tsp olive oil. Once hot add diced onion, minced garlic, cumin, dried oregano and 1 tsp salt. Cook until onion is translucent, about 2-4 minutes.
Add pinto beans, can of crushed tomatoes, and corn to the pot. Stir, lower heat to medium-low and simmer. Transfer 2 cups of the cooking water from the ancho chile in Step 1, half of the ancho chile (this is what I used, but you can use more if you like it spicy), 1 tsp salt, and just 1 of the tortillas to a blender. Blend until smooth. Add mixture to the pot, cover and simmer soup over low heat.
Thinly slice the remaining 2 tortillas (about 1/4 inch thick strips), cut strips in half and add to a saucepan over medium-high heat with 2 tbsp vegetable oil (I used 1.5 tbsp olive oil). Fry the tortillas until golden brown, 1-2 minutes. Transfer to a plate and sprinkle with salt.
Cut an avocado into 1 inch cubes and add to a small bowl. Add cilantro leaves and juice from half a lime. Gently toss to combine.
Cut remaining lime half into wedges. Turn the heat off the soup. Divide between large bowls. Top with fried tortilla strips and diced avocado mix. Serve with wedges & enjoy!
( This recipe is adapted from Purple Carrot, a meal delivery service I use and love. You can get $30 off your first box with code HANNAH, but I just want to let you know I make no money off that code, and this post is definitely not sponsored by them, just want to share the love! )
If you guys make this, let me know how you like it! I'm hoping we get another rainy day soon so I can cozy up again with it.