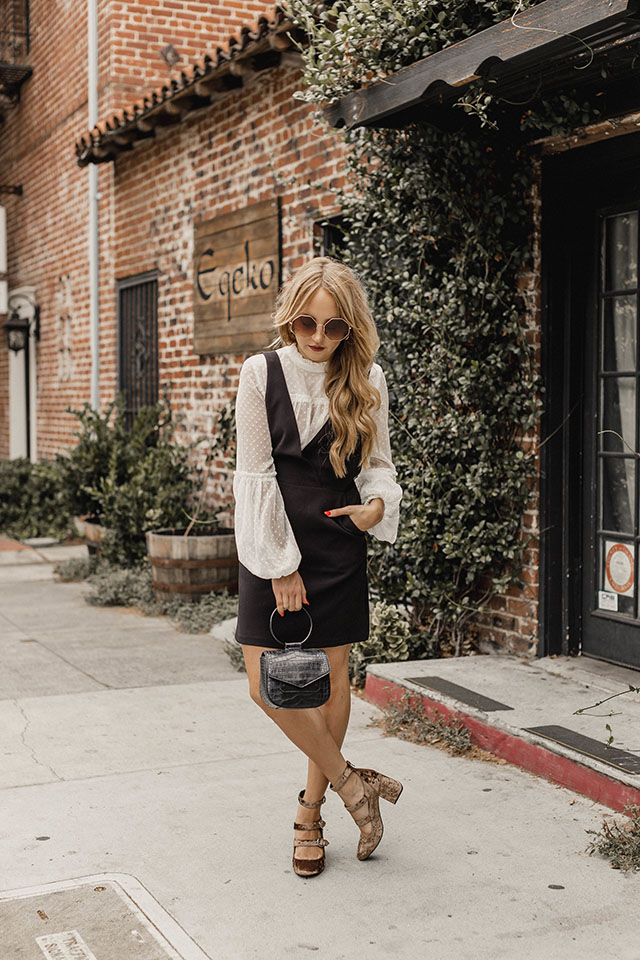 If you've been around for awhile, you will know that this blog started out as a budget blog. I started this blog 6 and a half years ago when I was most definitely on a college-kid budget and always looking for the best next deal. While I still think it's important to be smart with your finances, (and I love a good deal), my approach to budget shopping is a lot different than it used to be. It's strange (in a good way) to see how far this blog has come. I remember being so worried about building my online presence on Instagram that I looked into the idea of buying Instagram likes for influencers, even before I had everything up and running. I just wanted everything to be perfect and I noticed that with time and consistency, my blog and everything else would fall into place. Now look at me! I'm quite proud of this blog so far if I'm being honest.
In the past, I would freak out over a sale when it comes to trendy sweaters and would buy way more things than I needed, just because they were on sale. I would shop at affordable clothing stores or those online, be sure to shop about for discount codes on ReviewingThis! Try your best to get away from needing to buy more clothes than you need to, just because. This resulted in me having way too many things that I never wore, and I never really liked to begin with. It left me feeling gross, wasteful, and disappointed in myself. Over the years I've learned how less really is more when it comes to "things". I find that when I have less "things" my stress levels go down, the house is cleaner, and as a result, I am a happier person.
That said, there are times where I can't justify spending over $100 on a shirt or over $300 on a pair of shoes or a bag. It's not always practical. I don't want to contribute or turn a blind eye to "fast fashion" waste, so when I do choose to shop at affordable places, it's with intention. Long gone are the days when I would fill up the fast fashion cart just to get the free shipping or whatever the "deal" of the day is. Now, if I need one thing (ie: a vegan leather clutch for an event), I just get that one thing. Often times these "budget" shops are the perfect place to find vegan accessories at a price that you can stomach.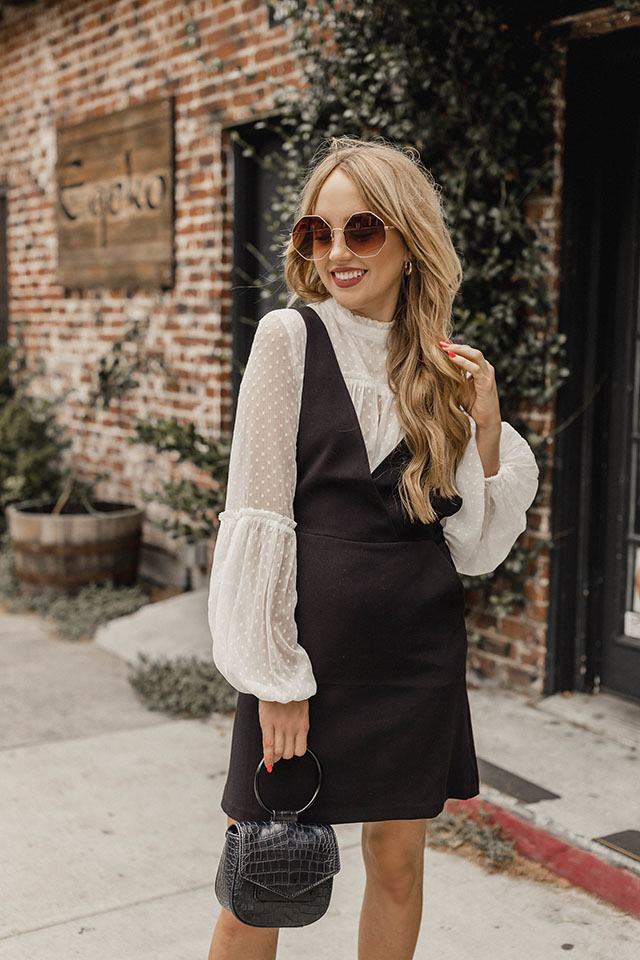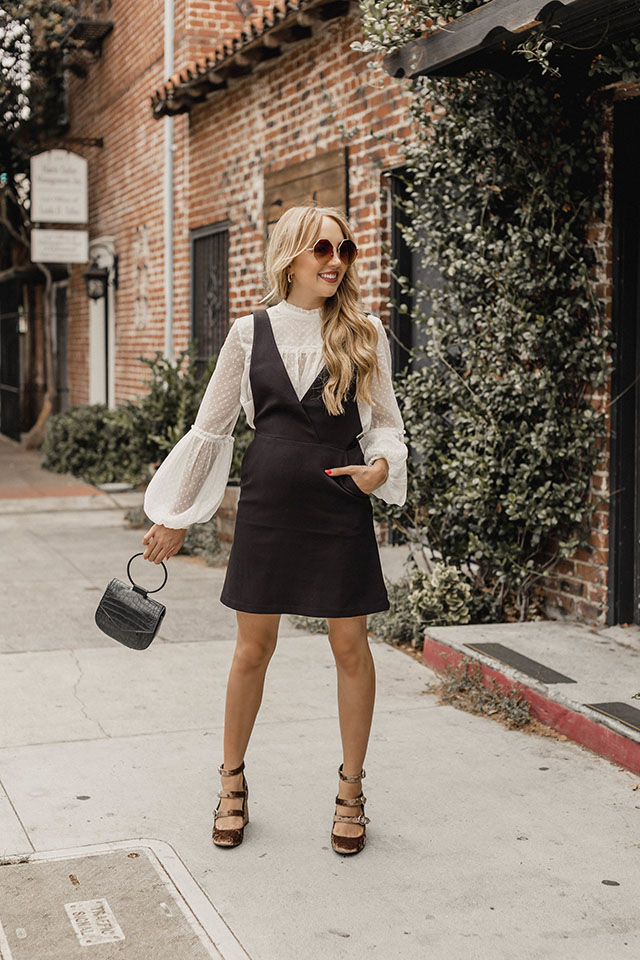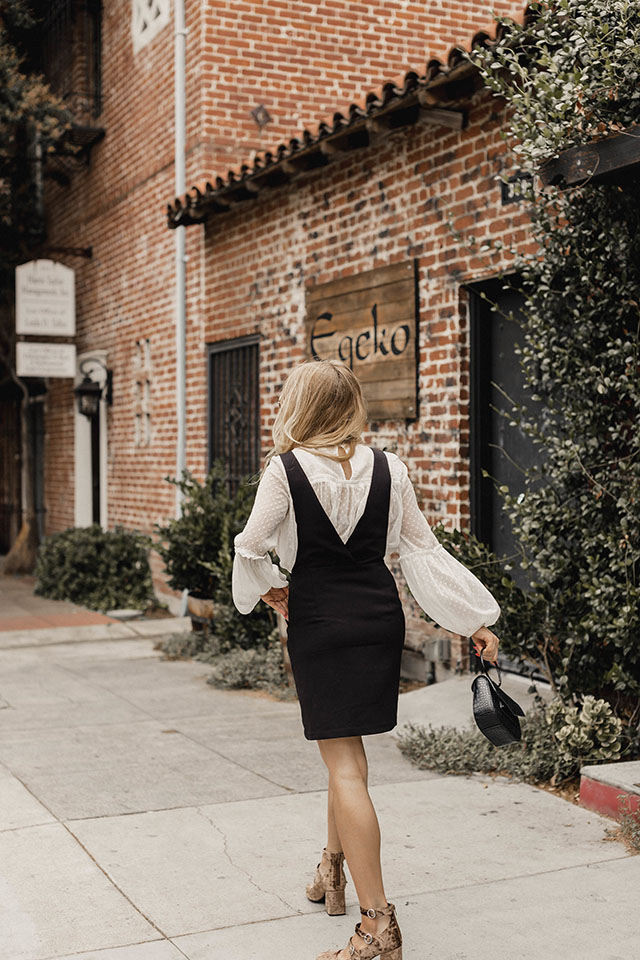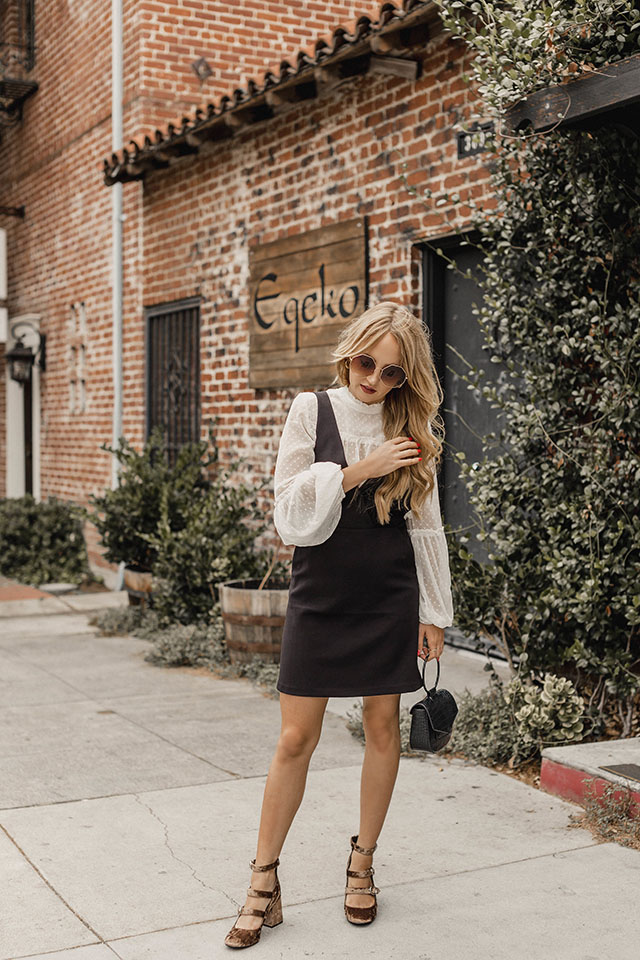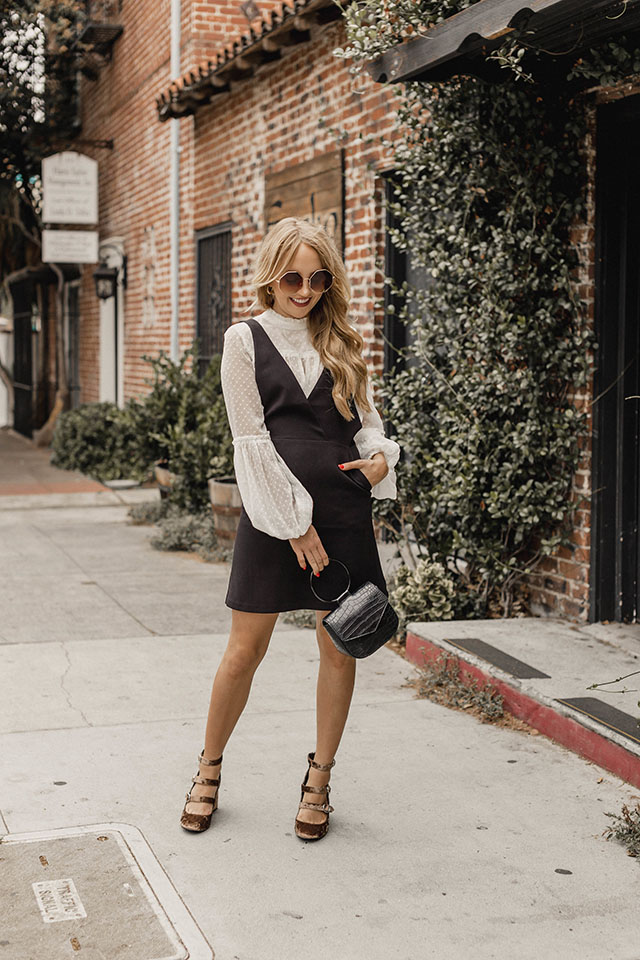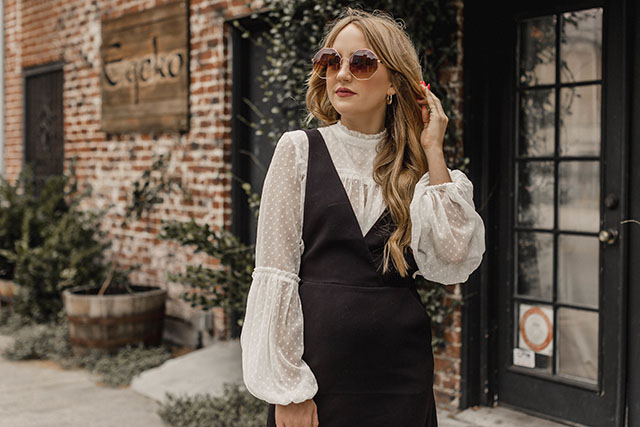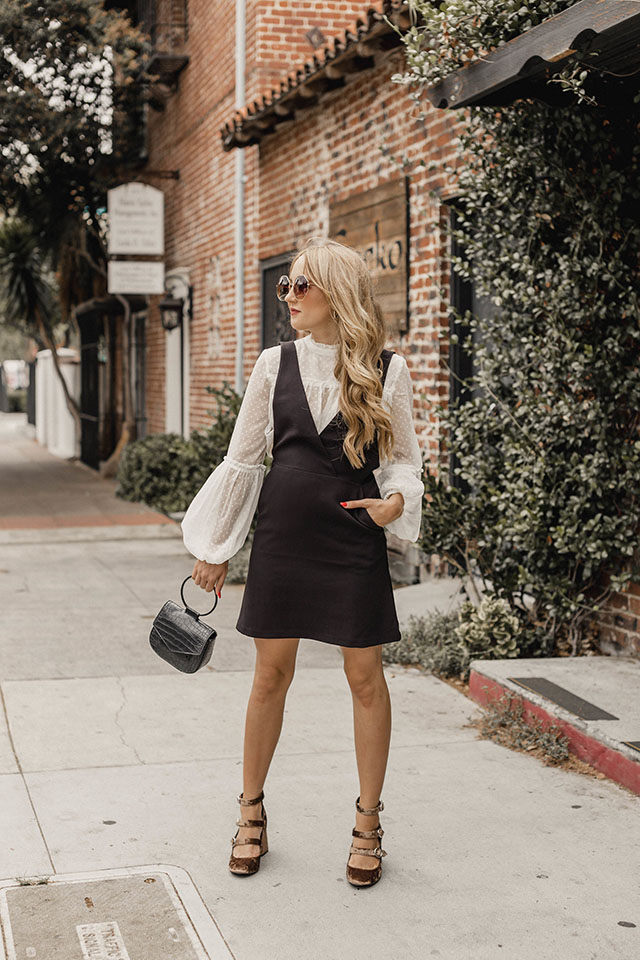 Top: Old (similar) | Pinafore: Old (LOVE this) | Bag: NastyGal – old (love this) | Shoes: Indigo Rd. (also here) c/o | Sunglasses: ZeroUV c/o
I know many of you feel me on this sentiment and are trying to shop an animal-friendly wardrobe without breaking the bank. I wanted to speak specifically to the quality of clothing at each of these places and let you know what I look for when I shop there. All of these places have great vegan options but are not 100% animal-free so you will have to check the labels before you purchase.
I always want to encourage supporting smaller companies when it makes sense for your finances and lifestyle, as well. There's no perfect answer to this subject, and all we can do is make the best decisions we can.
Where To Shop If You're On A Budget:
I really love Topshop for everything, but I find the quality of their clothing to be great for the price. When I buy a Topshop piece I keep it for a long time. They do a good job of coming out with trendy pieces that aren't too trendy if that makes sense. Many of the silhouettes are polished and look more expensive than they actually are. You can also occasionally find bags and shoes that are vegan here, (just make sure to read the labels).
Asos is one of the most reliable places to shop for me. It can be overwhelming but they have SO much stuff that you're almost guaranteed to find what you're looking for. In the winter I have really good luck finding jackets and sweaters that don't have any animal products in them. This is my go-to place for dresses whenever I need one for a wedding or event. I purchase a lot of shoes from here as they have a lot of non-leather shoe options. If you become a "Prime Member", you get free 2-day shipping for the entire year for only $18! It's such a steal and hard to beat.
NastyGal has an incredible selection of vegan bags and shoes. The bag above is one of them. I've had this bag for awhile now and it's one I reach for over, and over and over again. It's an impressive quality and has yet to fall apart on me, even after repeated wears.
I absolutely love Public Desire for affordable shoe options. They always have super unique styles and are always in the $30-$60 price range. I've yet to find a non-vegan shoe on this site but make sure you always double check the labels.
I love River Island's unique selection of clothing. They also have a good amount of shoe and handbag options. I can always count on them having something "trendy" that isn't too over-the-top.
I love Lulu's for vegan shoes and bags (they have a whole dedicated section), but also for affordable dresses and vacation styles.
Another great spot to find animal-friendly shoes and bags. I also love Urban Outfitters for sweaters as they seem to have a wide variety of wool-free sweaters. I also find the quality of most of the stuff I buy from there to be really good. It's a little more hit or miss than some places. They also have a really cool line called Urban Renewal which is recycled vintage pieces. I love that they are recycling pieces!
Terrible customer service, cute clothes. I would say the quality is on par with Zara… aka some great some not-so-great. They do have some great vegan bag options. Example here.
I've found some really unique pieces from Zara that I'll keep in my closet for a really long time. Again with the bags and shoes, you'll find some options here. Just make sure to read the label, and with shoes, double check the material of the soles. Zara is definitely a huge contributor to the fast fashion industry so when I do shop here, it's sparingly and I'm very picky with what I buy.
I love Old Navy for basic pieces — such as t-shirts, button downs, and jeans. They are really SO affordable it's hard to beat. My favorite basic t-shirts are from there and I love them more than any other brand I own. Examples of my favorite Old Navy basics seen here and here.
SHOP SIMILAR:
Photos: Gabi Wells