Every time I visit Palm Springs, I leave a little piece of my heart behind with it. I don't know what it is about Palm Springs, but to me it feels like the ultimate paradise. From the gorgeous boutique hotels, to the endless array of mid-century style homes, to the dreamy antique furniture stores and thrift shops, I can't get enough of it. I am so lucky to only live a few hours away, and have the option to visit at the drop of a hat.
That's exactly what happened when my girl
Abby
asked if I wanted to join her work trip — needless to say I said yes without even taking my next breath. We got to stay at the
Parker
which has been a dream of mine ever since I fell in love with interior designer Jonathan Adler years ago. (He designed the entire hotel and it is beyond dreamy — if you haven't visited, you must! Every corner is
instagram
worthy.)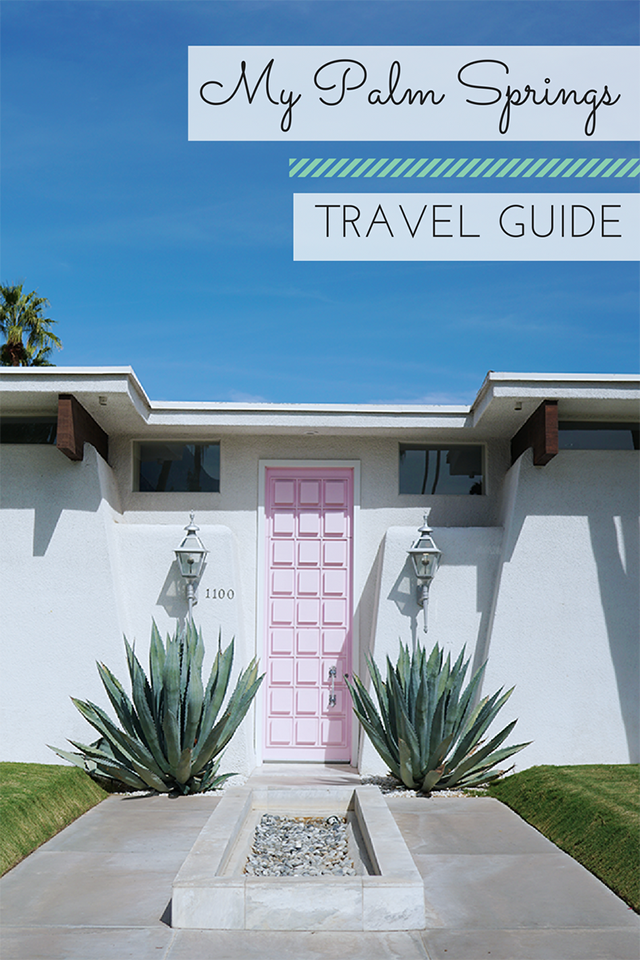 1.
That Pink Door
Located at 1100 E Sierra Way, this pink door has got to be one of the most photographed doors in the world. If you visit Palm Springs, it's almost a rite of passage to stop and take a photo in front of this door. Three doors down is another fabulous mid-century home with two lions out front that are always decorated or dressed up in some fashion.
2. The Parker
As I said earlier, if you're looking for some instagram-worthy photos, the Parker is where it's at. You can take a photo in front of the iconic entrance, explore the interior design, play chess on a giant chess board, have lunch at Norma's, grab a drink at the lemonade stand, or hang out at the gorgeous pool.
3. King's Highway/The Ace Hotel
Just down the road from the Parker is the Ace hotel that has a super hip vibe and a pool that gets pretty poppin' on the weekends. I've never stayed here, but it's definitely on the list! (P.S. The Saguaro is another hotel you need to check out for the pool and the bright decor — I posted about it here). King's Highway is the cutest little diner connected to the hotel that makes you feel as if you are on a road trip stopping at a quaint diner on the side of the road. They had a few vegan options which was great, and I highly recommend getting the avocado toast.
4. Thrifting/Antique Shopping
The above photo was taken The Frippery, an upscale vintage store that was the first place Abby and I stopped on our day of thrifting. While we were more in the mood for some under $10 scores, this place had the type of gorgeous printed maxis from the 1960's that look like they are straight out of a Slim Aaron's book. It was just fun to look at them! There are great places to thrift in Palm Springs – I recommend just typing in "antiques" or "thrift store" into Yelp and hit up as many spots as you can while you're there. You're sure to find a treasure (or more!)
6. Vegan Food
I always like to treat myself to some junk food when on a road trip (even as a vegan!) I love that veganism makes me try new places because I'm always finding the most amazing restaurants everywhere I go. The above is a 100% vegan reuben sandwich from Palm Greens Cafe and it was amazing and hit the spot. This trip was the second time I'd eaten here — the first time I got the vegan breakfast burrito which was also to die for.
Make sure you check out Abby's post for Glitter Guide which also has some must see's and do's!