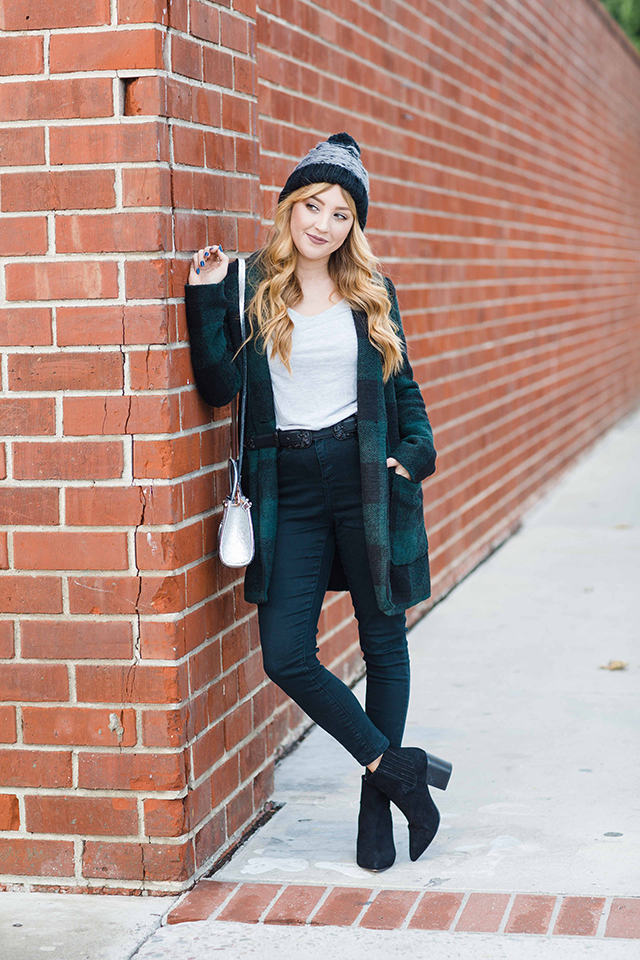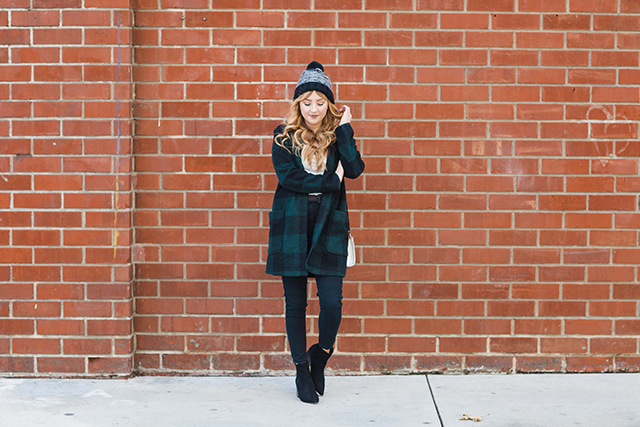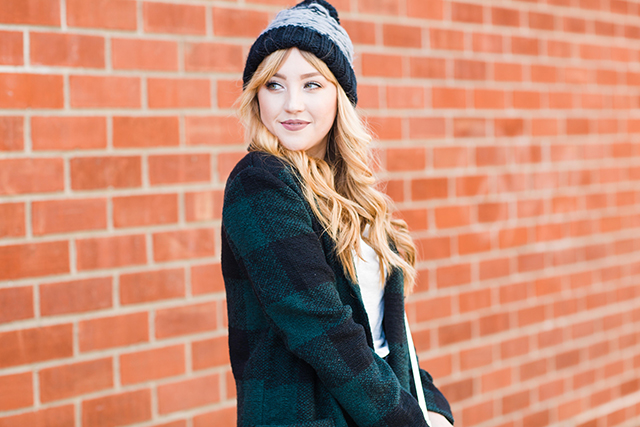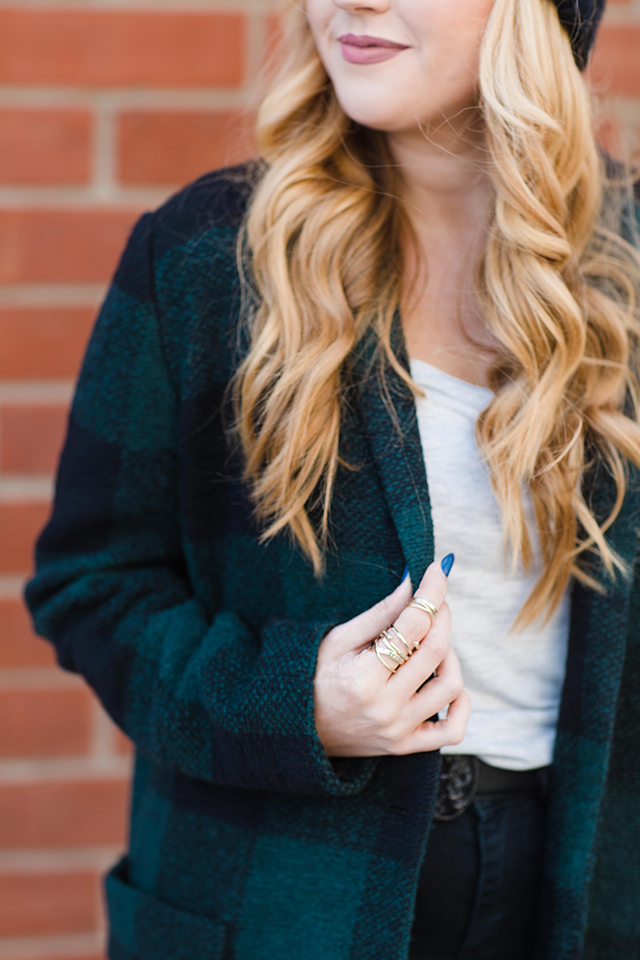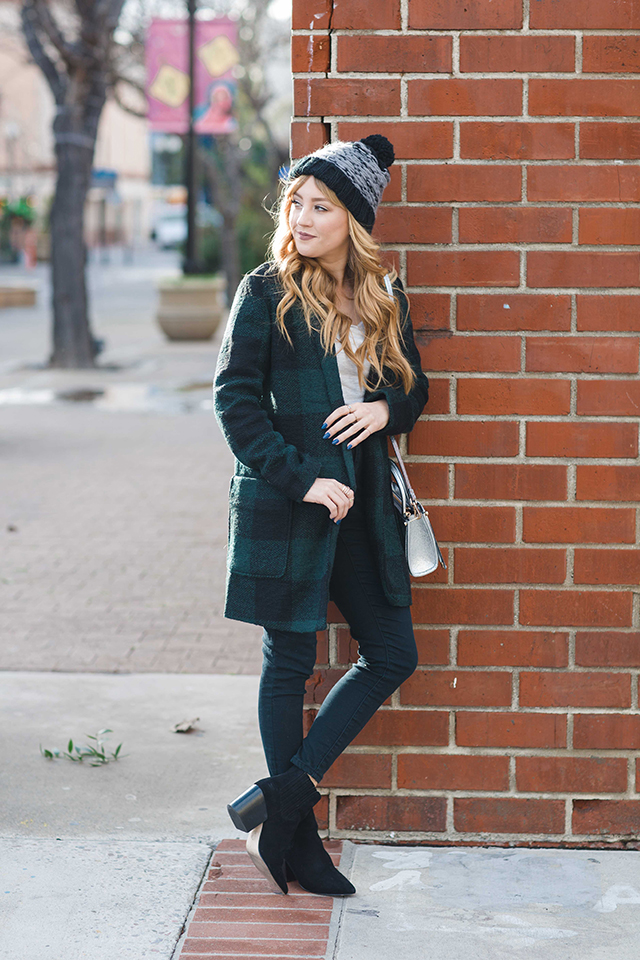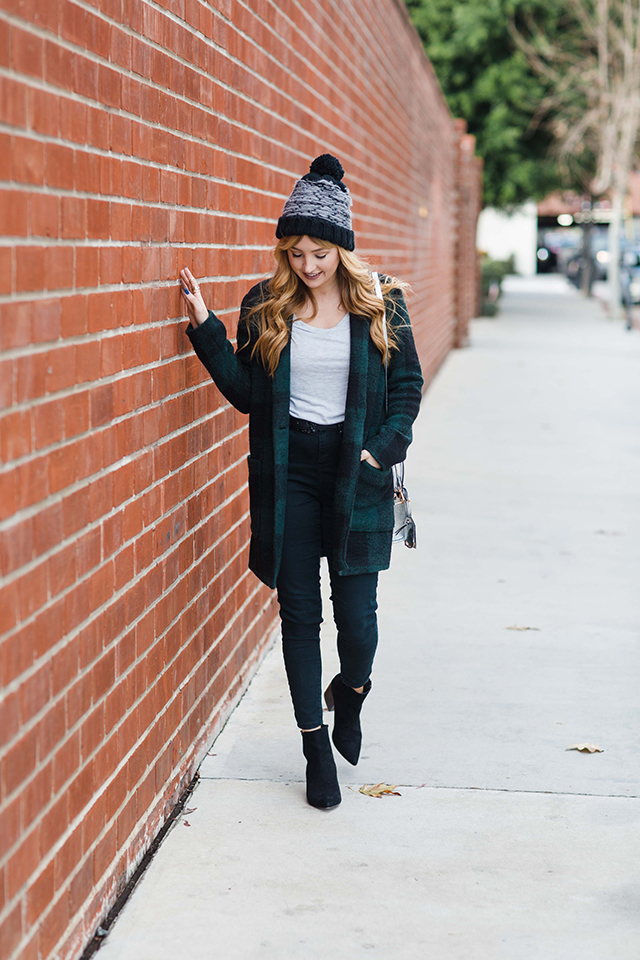 Coat: BB Dakota  |  Shirt: Old Navy (on sale and SO affordable — love this tee)  |  Jeans: ASOS  |  Belt: ASOS  |  Booties: ASOS (almost exact – best boots EVER)  |  Beanie: Nordstrom (bought last year but love this one – on sale too)  |  Bag: H&M (love this)  |  Rings: Kendra Scott c/o  |  Lipstick: Too Faced Queen B

You guys — I have been living in some form of this outfit for the past two weeks.  We've actually been getting cooler weather in SoCal – it was even in the 40's earlier this week!  Obviously those of you who actually live in cold climates are rolling your eyes – but it is super rare here so I feel like a lot of people aren't prepared with the wardrobes for this type of weather.  I find that if my head is warm, the rest of my body is warm, so I've been wearing a beanie almost daily — it's also a good excuse to not have to do my hair.
There's a few essentials in this outfit I want to touch on because I feel like they are good basics to have in any wardrobe.  First is my tee — it's a simple Old Navy tee but I have it in multiple colors because it's the perfect tee to layer under a cardigan or jacket.  You can't see the hem because I have it tucked in, but it's got a tulip shape, so if you're feeling a more relaxed look, you can leave it un-tucked and it's extremely flattering.  Next is my belt — these double buckle belts are all the rage right now and I can't believe that this one is on sale for $11!  It feels super high quality, and has become the accessory I always reach for.  I love how the solid black isn't distracting. I love the gold and silver buckles you usually see on this style belt, but sometimes it can be the statement of the outfit when I just want it to be a co-star… know what I mean?
I hope you are all having a great Thursday! Be sure to enter this giveaway before you leave — all you have to do is leave a comment and you can win $100 Visa Gift Card & Broad City Season 3 on DVD!
Photos: Taylor Cole
Save