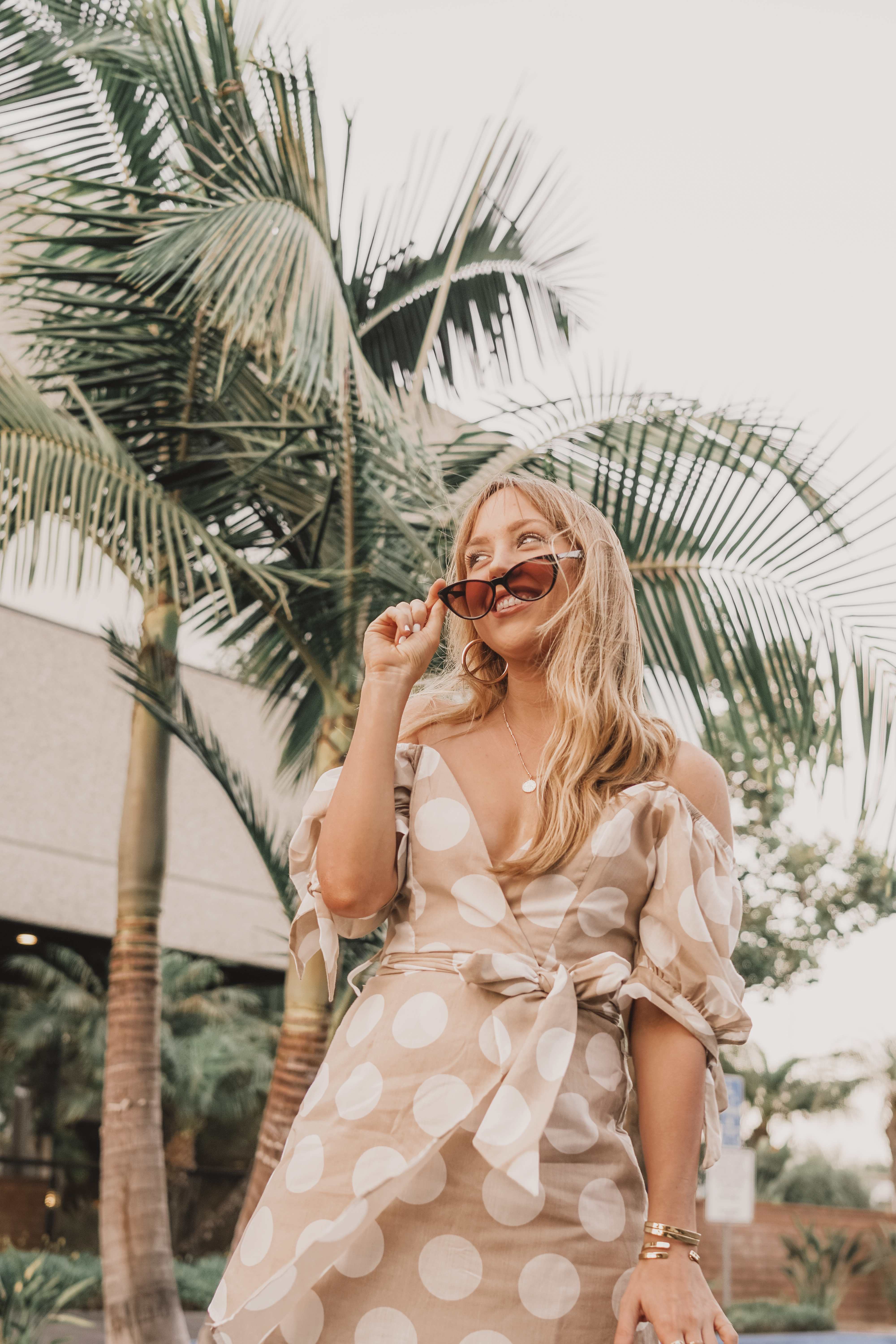 This dress combines all of my favorite features… an off the shoulder silhouette, bow ties, big sleeves, polka dots and a sweetheart neckline. It's a dream! I would have to say it's one of my favorite pieces in my closet right now. (I have a discount code for you guys down below if you're interested).
I've been commuting back and forth from Orange County to LA a lot this past month which means a TON of podcasts and books-on-tape. I know you many of you guys love podcasts and books-on-tape too so I love sharing when I find a good one…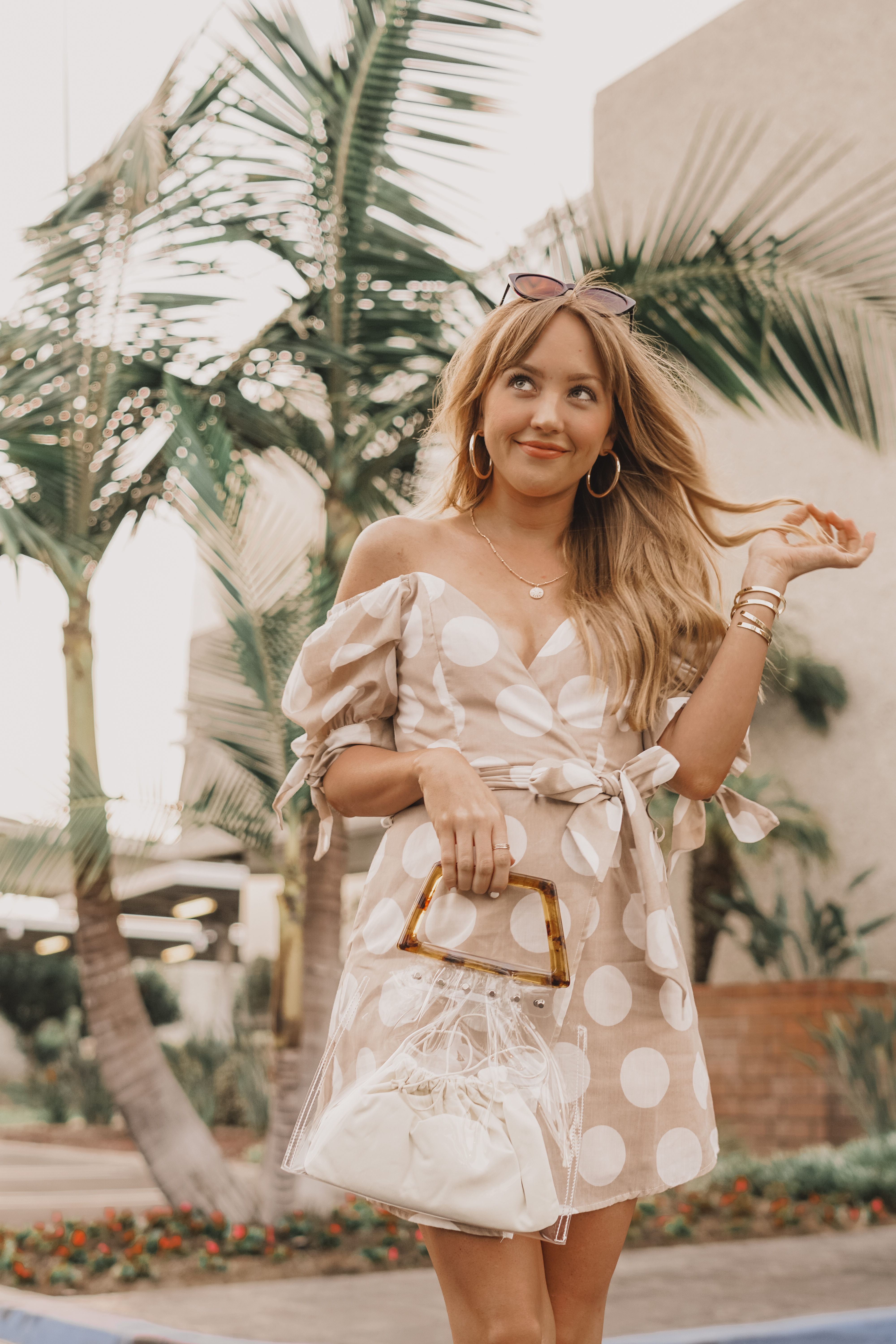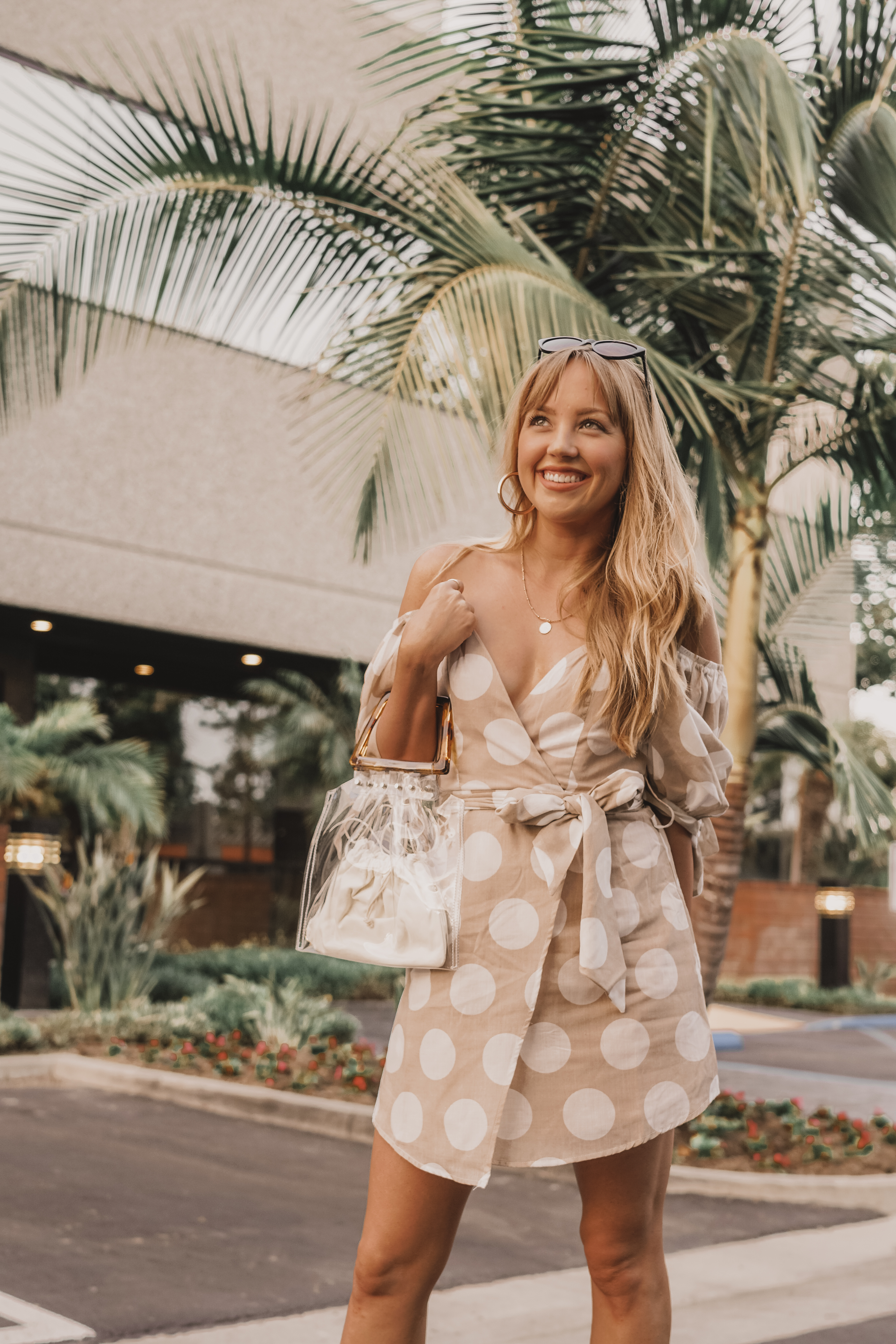 Dress: Princess Polly (get 20% off with code LOVEHH) |  Bag: Princess Polly  |  Shoes: Lulu's  |  Sunglasses: Urban Outfitters  |  Earrings: Urban Outfitters  |  Bracelets: BaubleBar  |  Necklaces: Princess Polly
Right now I'm listening to "The Secret"… a book I read years ago. At the time I didn't feel like I really understood it or absorbed it. (Was probably too young and preoccupied). Those of you who follow me on Instagram know that a couple of weeks ago I had a rough week. It seemed like a thunderstorm of bad news, events, and stressful situations on top of it all. I know we all have those weeks, where something bad happens, then another, then another to the point where you're asking "really universe?!"
I think that's what lead me to The Secret… I really felt like my mentality and my attitude during this time were not helping and I wanted to see how I could fix that. So I started listening and wow… it all makes so much sense to me. I already sort of knew that our minds can get in the way of what we want to achieve (we can talk ourselves out of anything), but this put it into a whole new light and perspective. It's hard to explain why this book is so powerful in just a blog post, but I highly suggest reading it if you get the chance. It's all about the law of attraction and how when we think positive thoughts, and we picture positive things happening in our minds, they will eventually come true because we are attracting that energy.
I went from a few weeks ago asking the universe "Why me? Why this?" to thanking it constantly. (I know, I sound like a total hippie but I swear it works). I thanked the universe for my 2.5 hour drive today (which should have been less than an hour) because REALLY I should be so thankful that I have a car, I am able to drive it, and that I am using it to chase a dream and a job that I love rather than sitting at a job I hate. This past week I have been in a really positive mindset and I have the book to thank for that.
I would love to know if you've read "The Secret", or any other books on the law of attraction! Please comment with any recommendations you have, and thank you as always for taking the time to stop by.
xx
Shop The Post: