(Read my Rome guide here.)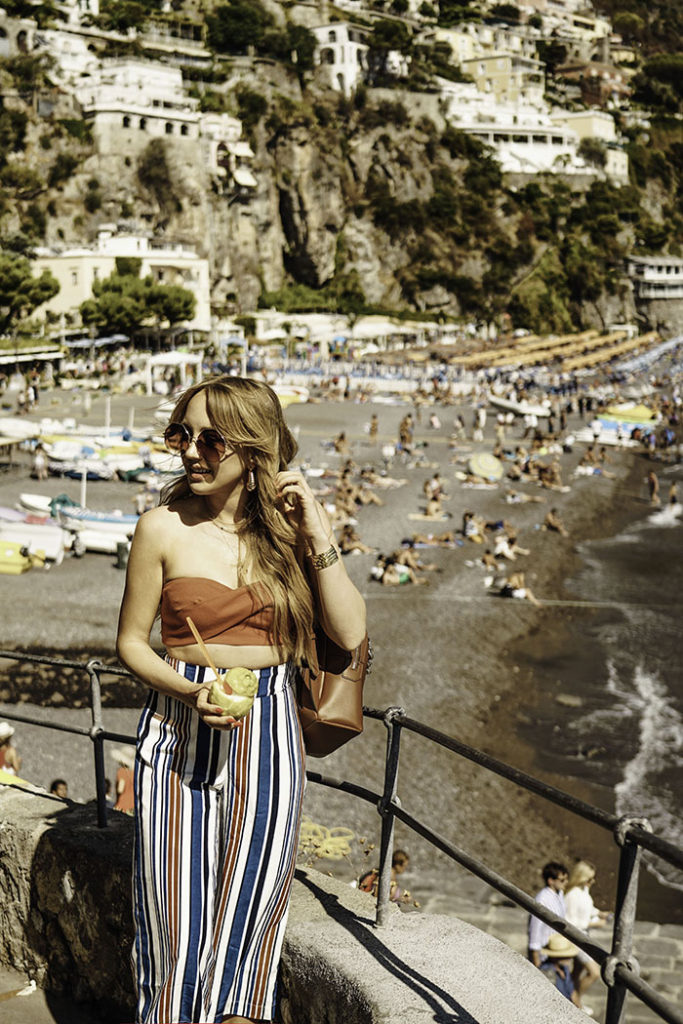 When we started planning our trip and decided on Italy, I instantly thought of Positano. Can you blame me? I'm sure your Pinterest and Instagram pages are flooded with picture after picture of the pretty pastel buildings on the hillside, like mine. I knew we had to spend time in Positano and after asking friends who visited, we decided to stay for 4 nights.
Positano is a true vacation type of spot — there's not really any sightseeing or education to be had, it's very much a lay on the beach all day with an Aperol spritz and a good book kind of place. I really felt like starting our trip in Rome, sandwiching Positano in the middle, and ending in Florence was the perfect balance. We had our busy sightseeing spree in Rome, some relaxation in Positano, and ended the trip in the hustle and bustle of Florence.
We had three full days and spent them like this:
Day 1: Laid on the beach all day with a good book and a spritz (or three)
Day 2: Rented a private boat to Capri, spent a few hours in Capri, took the ferry back.
Day 3: Walked around the shops, did daytime cocktails at Le Sirenuse.
While I think we spent our days wisely, if I had another day or two I would spend one at the beach, and the other driving up and down the coast. I've heard magical things about Ravello, and there are a lot of other towns up and down the coast I've heard are worth visiting.
THE BEACH:
I read a bunch of blogs before our trip and almost every single one said you needed to make reservations to go to a beach and have a chair, along with recommendations of which club is best.
On our first day we were really just looking for somewhere to lay motionless for hours to rid ourselves of any remaining jetlag. I learned the main beach is free and you can pay 15 euros for a beach chair for the day. Just walk up and pay. (Very much worth it if you ask me — you get an umbrella and table to sit your drink on). In addition the sun is HOT in Italy so there is no way you'll want to be at the beach without an umbrella.
If we did another beach day, we would have made reservations at Da Adolfo's (a separate beach & restaurant you have to take a small boat to). That is where a few of our friends went and it's more of a "party" type atmosphere, whereas the main beach is more family friendly.

RESTAURANTS:
Next2 – Not my favorite, but that could very well be due to the fact that there was only one vegan option and it was a pasta with a sauce that was very "green" and healthy tasting. It was not exactly what we were craving. That said, the atmosphere was beautiful and the wine was amazing.
Casa e Bottega – Went here for lunch one day and it was so fresh and yummy! A nice break from all the pasta and pizza. They have many vegan options that are super healthy. We shared a smoothie and ordered the chickpea fritters.
Chez Black – This restaurant is right on the beach, and definitely iconic to Positano. We stumbled in here mostly out of convenience as it was a short stroll from our beach chairs. The food was good and the proximity to the beach was nice. There are photos of celebrities who have dined here all over the walls.
Ristorante El Capitan – This is connected to a hotel and honestly, it was my favorite in Positano. We ordered the gnocchi and pizza and the sauce on the gnocchi was to die for. We watched the sunset here and WOW. One of the best sunsets I've ever seen in my life. Highly recommend eating here at sunset.
There are actually a ton of restaurants in Positano, many we didn't get to try but would have loved to. A lot of our choices had to do with where we were and what was closest at the time. It's not easy to maneuver around Positano, so even if a restaurant was 5 stars, if it was up the hill chances were we'd go with something closer.
SHOPS:
I  only bought 2 things in Positano. (Although if you're wanting to splurge on something luxury you can definitely do that duty-free.) Personally I wanted to buy something more true to Positano.
My first purchase: ceramic espresso cups decorated with lemons to remind me of our habitual daily espresso shots and the lemons of Positano. I use these almost daily and it was the best purchase.
I also got a dress that is designed and hand made in Positano from a little store called Luisa. I love that anytime I wear it, I'll have a little piece of Positano with me.

BARS:
Positano is not a nightlife centric place. There's really only one club – which is actually A-Okay with me because I prefer a lounge type atmosphere for drinks.
Le Sirenuse – I highly recommend doing daytime cocktails here. This hotel is iconic to Positano, and an extremely pricey stay. I know the chances of us staying here anytime soon are slim to none, so we had to stop by for drinks. The view from the patio is my favorite as you get the hillside and the ocean (see above). They also give you amazing olives and nuts with your drinks – yes please!
Franco's – This is a lounge-y type bar next to Le Sirenuse that is a MUST for nighttime drinks. I had a spritz here made with elderflower, and I'm still dreaming about it. I think this would also be a cool spot to hit for the sunset.
Music On The Rocks – This is the one club in Positano. Hence the namesake, the club is built in the rocks and has a cave-like feel to it. We got there around 11PM and it was still too early (as the party doesn't get going until after midnight), although the DJ played fun music and we got a lot of good people watching in.
BOAT:
Because there were three of us, we decided to rent a private boat to Capri for the day. (My favorite day in Santorini last year was a day we rented a boat – this sparked the idea.) Getting to see both Positano and Capri from afar was truly magical. I'll do a full post on this with more details!
If you still want to see Positano from a boat, you can go to one of the beach clubs. There are boats that leave the dock every few hours, so you'll definitely get that same view and some good photo opps (wink wink).