I am beyond excited to share this post with you all today; coming to you from one of my favorite bloggers of all time! When Lindsay posted her dining room reveal I instantly fell in love. Knowing she had some budget-pleasing tips & tricks, I had to bring her over here to share them with you!
———————————————————————————
Hi Hannah lovers, I am Lindsay from Sadie + Stella and could not be more enthused to be kicking it with champagne lifestyle on a beer budget today. Story of my adult life. I happen to also be a big believer of not paying full price for anything, so that is where Hannah and I see eye to eye. Today I am sharing my favorite space in my home that happens to have been decorated on a budget, my dining room. I know we look at this space and instantly think I am a pathological liar when I tell you this was done on a budget, but I wouldn't lie to you.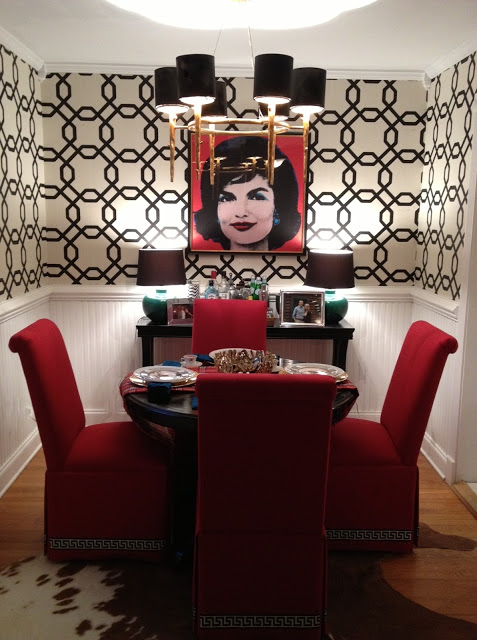 I knew I wanted this space to be full of seriously bold and enviable style and I think that is where we are. My first thought was to wallpaper the walls and as we all know that is neither cheap nor simple. Luckily I had the best help of all, the boy, to hang the Sherwin Williams easy change wallpaper. Now don't get it twisted, it took us a full day. However, the total cost was $120.00. Believe it.
The show stealing Jackie O pop art piece is a piece that I found on Art.com was actually purchased at 25% off with free shipping. Don't I love a 6 pack of beer price?
These fabulous color of the year, emerald lamps were also a steal. They were Target lamps that happened to be a putrid mustard color. After two coats of emerald green spray paint and a $12.99 drum shade from Lowe's, they are ready to go.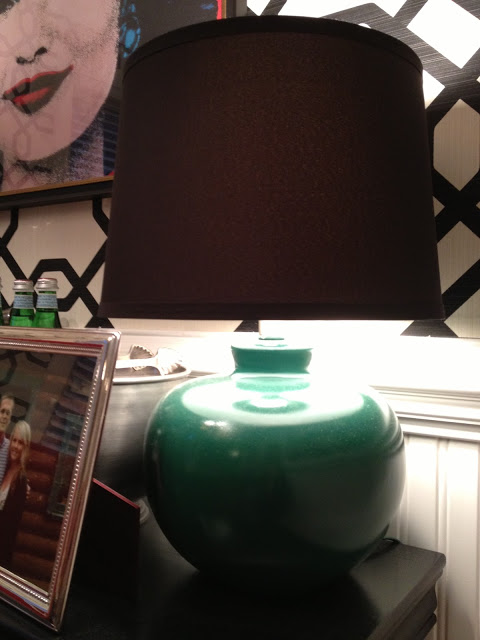 It was important for me to have a fully stocked bar in this space because let's face it, this girl likes to drink. The tray that holds all of the goods would be from World Market and was purchased for a whopping $25.00.
This chandelier is another success story. It was a score off of Joss & Main for $250.00. It came equipped with domed crackle glass shades. Absolutely atrocious. The higher beings had other plans for us after a little nudge of the chandelier sent 2 shades crashing to the floor. I was absolutely pleased. Divine intervention. I went to Garden Ridge and scoured their lighting area for some new shades. I found 6″ diameter drum shades that were white with black polka dots. Fail? Never. After a few coats of black spray paint we are now super glam glam.
And the chairs? They were a serious find at $150.00 a pop at Carrington Court. These might be my favorite part of the space. They are so incredibly custom and chic.
And all together now.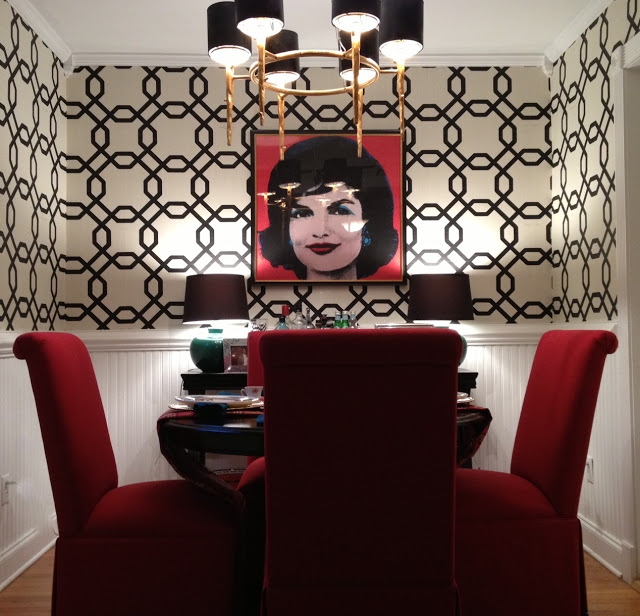 Thank you so much for touring my champagne space on a beer budget. Come over and visit me for more DIY and budgeting tips. Loves!
——————————————————————————
Seriously good, right? Go give her some love! Thanks again Lindsay!
xoxo,
H