Lulu*s Daisy Dress (see me style it here) | Coach Bag | ZeroUV Sunnies | Pinch Provisions Mini Emergency Kit | Camelbak Water Bottle | EOS Lip Balm | Neutrogena Sunscreen | Mophie Battery Pack | Hand Sanitizer | It's a 10 Leave-In Conditioner | Secret Deodorant | Flower Crown | Adorn by Sarah Lewis Gold Leaf Hairpiece
Embarrassingly enough, I did a lot of researching on what to bring to Coachella. I feel like there are always things you don't think about bringing that can really come in handy.
One thing I probably wouldn't have thought of is an empty water bottle. There are water stations all throughout the festival to fill up at, so you'll want to have something to put your water in. It's easy to forget to drink water but when you're in the hot desert sun for hours it's imperative you hydrate.
I got a Pinch Emergency Kit in my Lucky FABB swag bag, and I couldn't think of a more perfect occasion for one than Coachella. The kit comes with 17 items; hairspray, clear nail polish, nail polish remover, emery board, lip balm, earring backs, clear elastics, mending kit, safety pin, tape, stain remover, deodorant towelette, pain reliever, tampon, breath freshener, dental floss, and an adhesive bandage. All things you wouldn't think to bring, or wouldn't have room to put full sized versions of, but are convenient to have.
Chapstick and sunscreen are also must-haves. They go hand in hand with water as you're going to be spending hours in sun and want to protect your skin! I'm packing hand sanitizer to use before eating and after using the restroom. There will be lots of people there, and lots of germs, so I'm taking all precautions.
Last year there were quite a few dust storms so I'm bringing my It's a 10 leave-in conditioner. Even the tiniest amount of wind can cause my hair to get tangles, so dust storms are my hair's worst nightmare.
I'm also bringing my McDonald's towel in case I get some time by the pool! J and I will be attending the McDonald's party at Bootsy Bellows mansion where we'll get to try the new Bacon Clubhouse burger! I'll let you guys know how I like it. (I'm not going to lie, I'm a huge McDonald's fan – I'd eat a Big Mac every day if it weren't completely unreasonable.)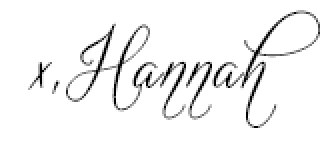 This post was created in partnership with McDonald's. All thoughts and opinions are my own.