(Make sure you read my Rome Travel Guide and Positano Travel Guide as well!)
We ended our Italy trip in Florence, and it was the perfect end chapter to our trip. (Other than some major complications flying home. I highly recommend flying out of Rome or a larger airport.) Nonetheless, our trip was amazing and the three of us agreed that Florence was one of our favorite cities of all time. While I loved Rome and Positano, Florence is a place I could actually see myself living.
I didn't really expect a lot from Florence beforehand because I'd heard a lot more about Rome and Positano, but WOW. This city is filled with so much culture, art, history, and there's just a buzz about it that's contagious. If you are planning a trip to Italy, Florence is a MUST see.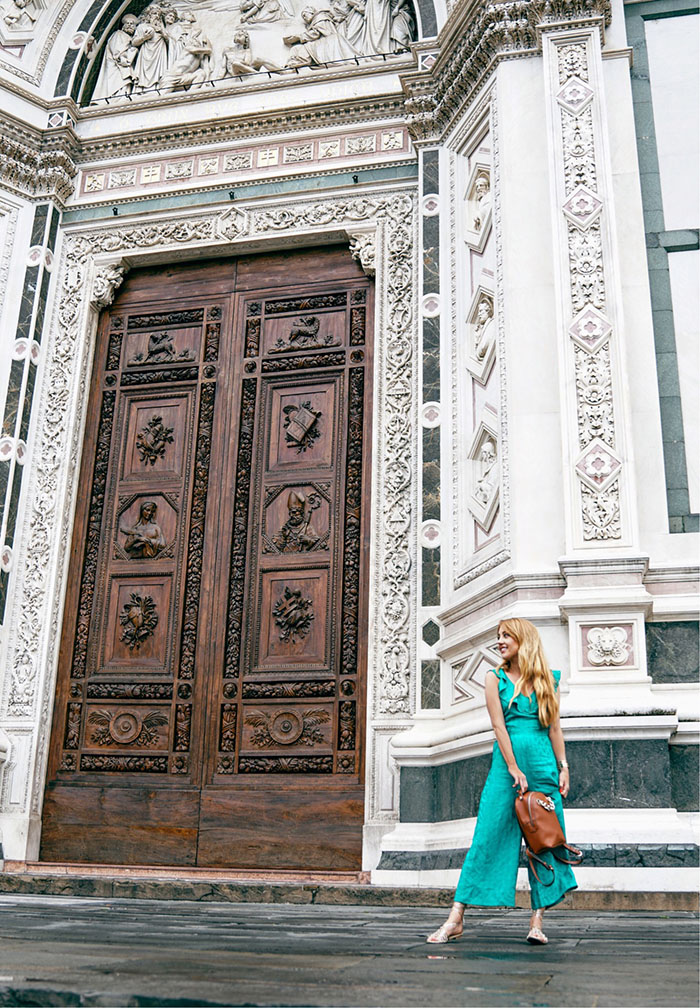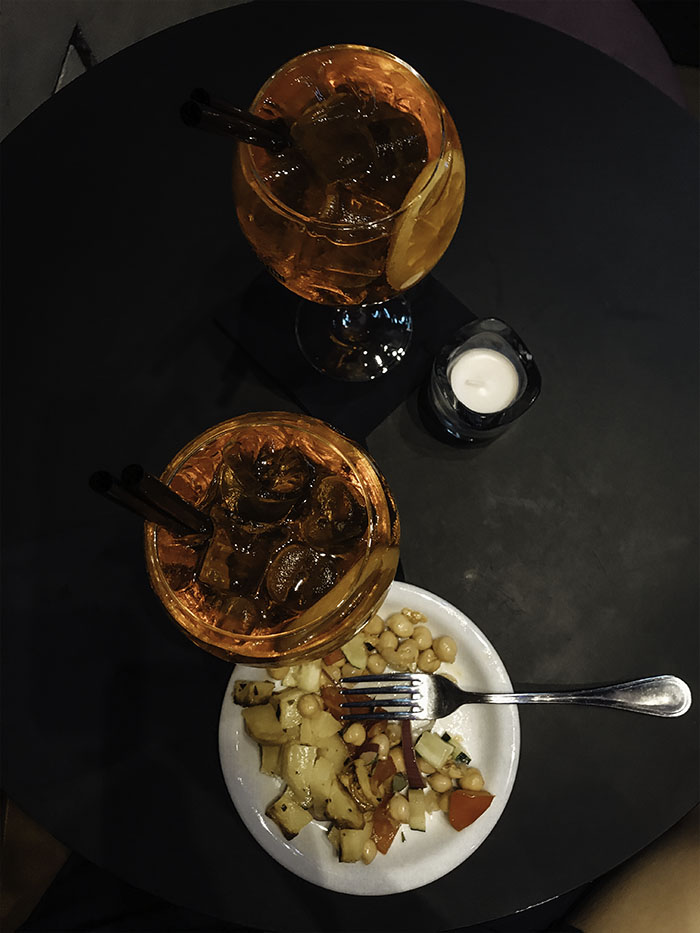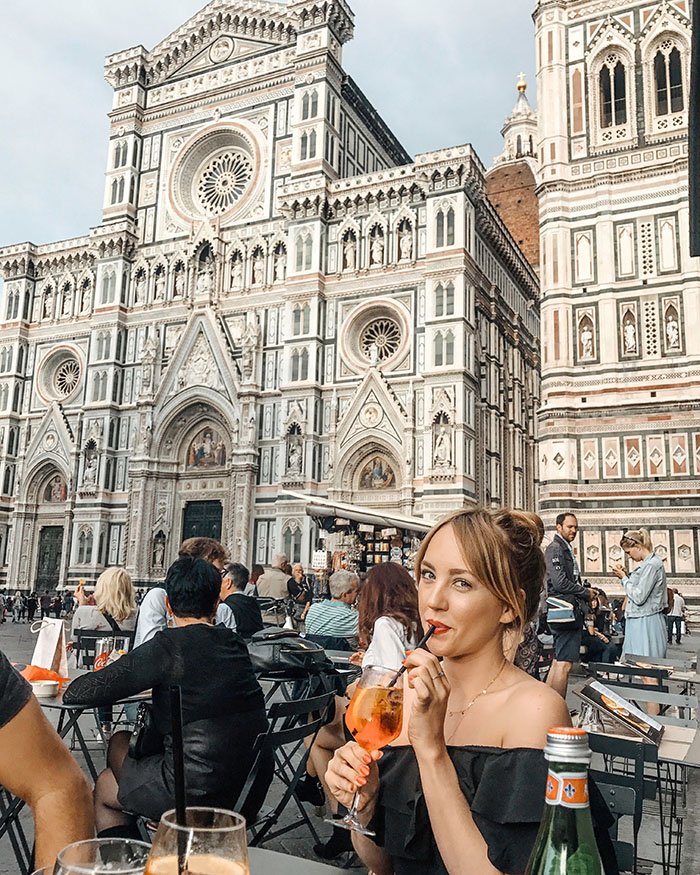 Where We Stayed
Our trip to Florence was sandwiched — we started in Florence for one night, and ended in Florence for 5 nights. On our first night we stayed at Hotel Renaissance. This hotel was really nice, rooms were small but location was key. You are walking distance to many sites, bars and restaurants. If you're young and want to be able to bar hop, this is a great location to stay in. We did have a little bit of a negative experience staying here, as we asked before we left if there was 24 hour front desk service and were told there was. When we got back home that night we couldn't get into our room, and were stuck out in the lobby for a little over an hour. Someone finally came to help after many hours on hold with Hotels.com. Other than this, it seemed like a really nice hotel and I wouldn't mind staying here again.
On the last leg of our trip we stayed in a suite we booked on Hotels.com and you can find it here. It's essentially a one bedroom apartment with a loft. It's walking distance to the Ponte Vecchio, train station, quite a few shops and restaurants, and overall we were super happy with it. We needed something for three people and this was affordable and provided plenty of space. (Most of the places we stayed in on our trip were quite small, so it was a relief to have a bigger space.) My favorite part about this spot is there is a little cafe across the street where we stopped every morning for espresso and a vegan croissant.
Where We Ate
We ate here twice, because we seem to do that with almost every place we really love on vacation. Both times we got their truffle burger, and the 2nd time we got a pizza as well. I would stick with the burger over the pizza, and get the pizza from the next place I mention. All in all, it's an absolute RELIEF to walk into a completely vegan restaurant in another country. The food was fresh and delicious.
I can't remember if we ate here 2 or 3 times, but this was definitely one of our favorite spots. It's casual, quick, and has a TON of vegan options. The vegan cheese here was some of my favorite vegan cheese I've ever had, and the sauce and pizza crusts were to die for. The owners are adorable and happy to have vegan visitors.
This was probably one of our favorite restaurants on our whole trip. For starters, the ambiance is amazing (cozy, dark, and candle lit). This spot is actually known for their steak, so I was a little worried they would not be super vegan accommodating. I showed the waitress our vegan passport and she immediately checked with the chef and came back with an array of off-the-menu options they could prepare for us. Never in my life have I had such amazing service at a restaurant. To top it all off, the pasta was absolutely divine. It was cooked to al dente perfection, with the perfect amount of sauce that was neither too oily or too bland. I had a more spaghetti type dish while Jesse had an arribiata style pasta with spiral noodles. The best part? We came back two nights later and got the same waitress who remembered our custom orders to a T and had the chef recreate them.
Mercato Centrale -Marcella Bianchi
Absolutely a must visit if you're in Florence. We came across this on Yelp, but in all my research of Florence I never saw anything about it. It's a large marketplace filled with restaurants, wine bars, shops, and communal eating areas. We ate at Marcella Bianchi, a little burger joint with vegan burger options. We weren't starving when we came here, so we were kind of sad we weren't hungry enough to try more of the burger options. This is a great spot to hit up when you just want to relax somewhere casual after a day of site seeing.
This spot has a vegan menu. The atmosphere is stunning – so cozy and chic, but to be honest the food didn't blow my mind. What we had was good, but the portions were so small and not cheap. Vegan food cannot be in small portions otherwise you'll be hungry 30 minutes later. I enjoyed this place, but definitely wouldn't come here if I were starving.
Things To Do
Aperitivo – If you have never done an aperitivo, it is a must in Florence. Basically it's a happy hour where you get deals on drinks, but they also have a small buffet of snacks and appetizers for you to graze from as well. We popped our heads into a few different aperitivos until we found one that had potatoes, chickpea salad, bread, and roasted veggies for us to snack on. Almost all of the restaurants do aperitivo, so you will just want to pop your head in a few restaurants before dinner to see which ones look the best to you.
Piazzale Michelangelo at Sunset – This piazza is a bit of a treck up a few flights of stairs, but it is worth it. The photos above with the gorgeous views were taken right before sunset. This is an amazing spot to camp out with a drink or two to watch the sunset. You can either bring your own bottle of wine or purchase drinks from one of the vendors up there.
Ponte Vecchio – If jewelry is your thing, you'll want to head over to the Ponte Vecchio as it's flooded with jewelry shops and tourists looking to score a deal. We didn't purchase anything, but had fun looking around and the views from the bridge are stunning and worth the trip.
See The David – We had to see the David, and it really is a stunning thing to see in person. (Especially after reading about it in school our whole lives). Seeing the David was my favorite part as to be honest, I'm not a huge history buff.
Have Cocktails by the Duomo – The Duomo in Florence is absolutely the most stunning building I've ever seen in my life. We were told the tours are a waste of money (no idea if that's true or not), but we opted to have cocktails at one of the spots near it instead at sunset.
Gucci Museum – This was closed while we were there as it was under construction, but I've heard it's a must if you're in Florence.
Wine Tasting – Another thing we weren't able to do as we ran out of time — (We ran into some old friends who were traveling in Florence at the same time as us! Needless to say, that got us a little distracted and off track from our original plans – no regrets because we had a blast). That said, Tuscany is a short drive outside of Florence into the countryside and my friends who have visited said it was amazing.
Rasputin Speakeasy – Last but not least, you HAVE to go to this speakeasy. This is where all the locals go, and in fact you will probably have to ask every local in sight for directions (at least we did), as it's super secretive and not easy to find. It's a small hidden door. We didn't make reservations so we ended up at a community table which meant we made friends with some local people our age and it made our night SO much fun. I highly recommend trying the artichoke cocktail if you like dirty martinis or savory cocktails — it's SO good.