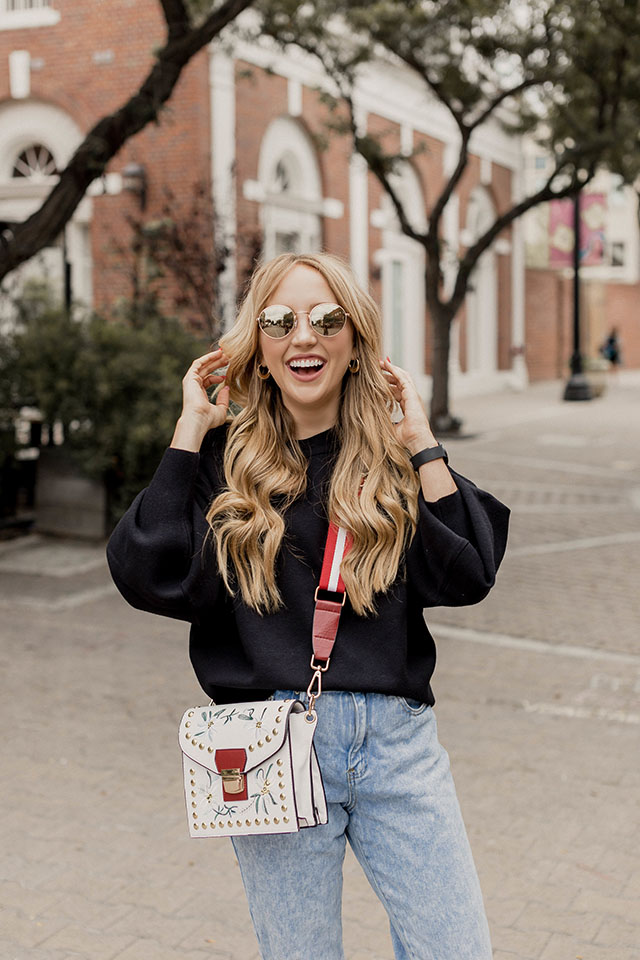 These days I work mostly from home. When people find out I work from home their initial reaction is usually something like "Oh wow, you're so lucky!" or "Must be nice, I'd work in pajamas every day!" I definitely consider myself extremely lucky, as I worked a desk job for 5 years so I definitely appreciate the change. Having said that, I feel a lot of people will be as fortunate as me to work from home soon too! More and more businesses are recognizing the benefits of working from home, especially with virtual offices available, as seen on https://yourvirtualofficelondon.co.uk/. This means that companies can still present themselves as professional for clients that perhaps don't approve of companies working from home for a variety of reasons. With saving costs on the commute and renting an office, it seems there's no debate on whether working from home is a good business move or not! There are also a few challenges working from home as well. I could do a whole post on the pros & cons of working from home, but for now I'll talk about one important factor -"working from home fashion".
P.S. If you work in an office and are interested in corporate fashion, be sure to check out my "How To Build Your Corporate Wardrobe" video from my corporate days.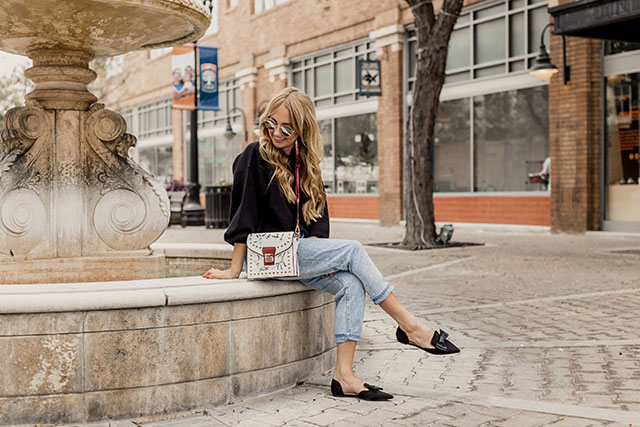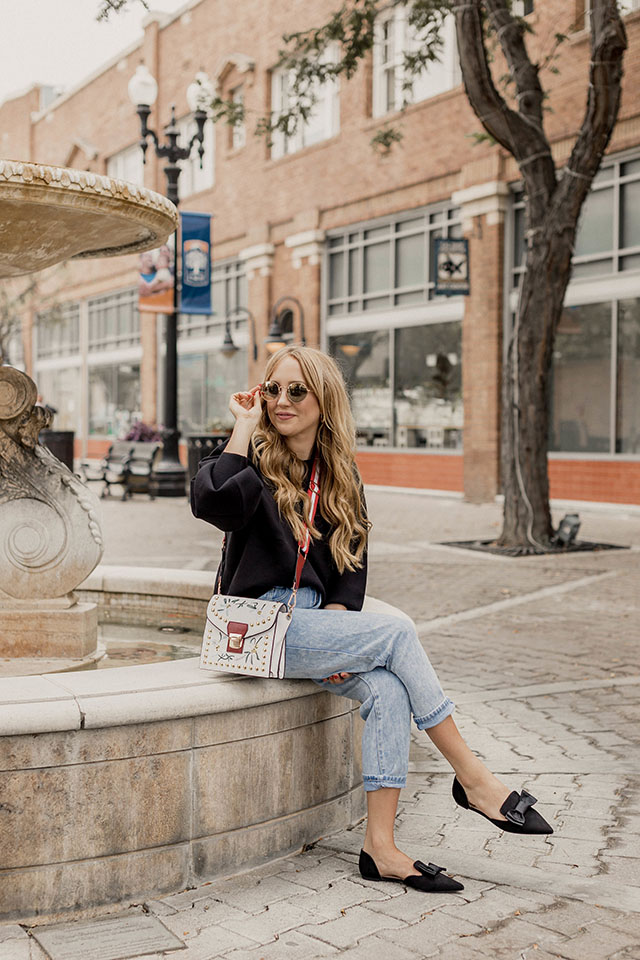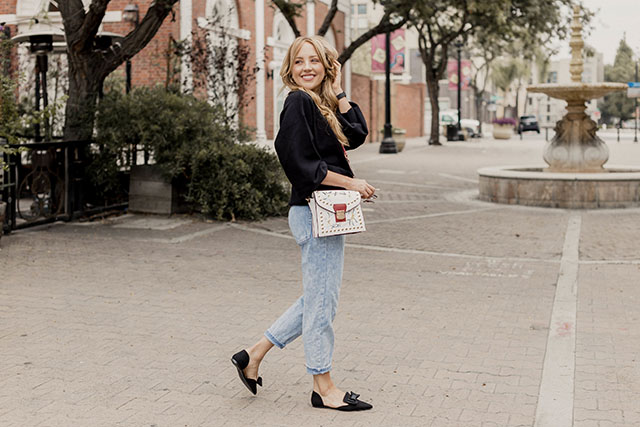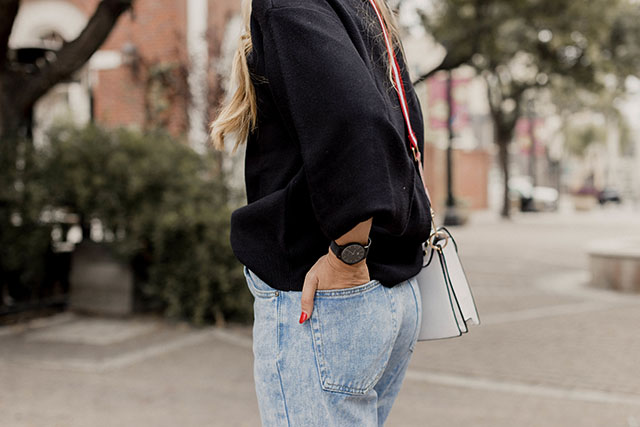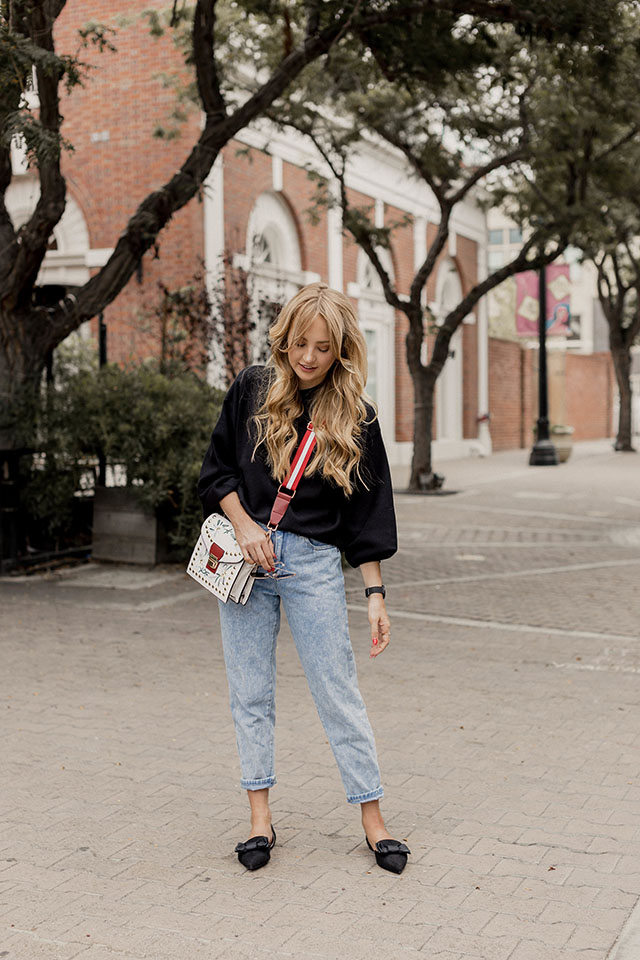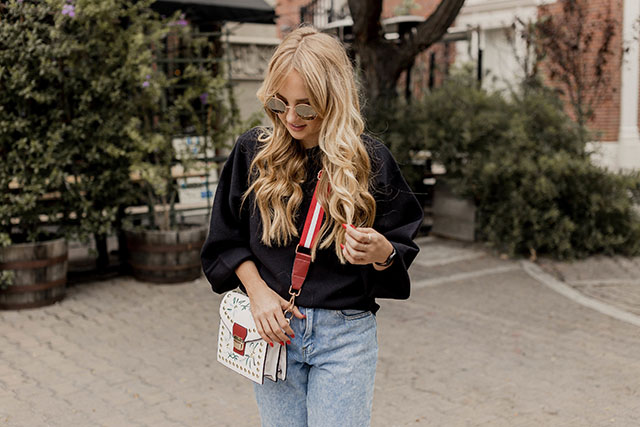 Sweater: H&M | Jeans: old (love these – a splurge, but this company is sustainable and eco-friendly I like that) | Bag: Julia Kays c/o | Watch: MVMT c/o (get $15 off with code hannahhagler15) | Shoes: H&M | Sunglasses: old (love these) | Earrings: Similar
I've always been a huge believer that your outfit affects the way you feel, which affects the way you present yourself to the world and I also think it affects your productivity and motivation. For example, when I'm in sweatpants (which I love) I really don't feel like seeing other people or doing much of anything. I consider that the coziest outfit and it's really hard to be productive as I find myself wanting to dive onto the couch to put on a trashy reality show. Although I do enjoy checking out chic jewelry / BitterSweet Boutique online and other fashion websites while I got ready for my day.
While it may sound super appealing to work from your pajamas (and to be totally honest, I do have days where I do that), I find I'm more productive, energized and generally feel better when I'm dressed. In the summer it's quite easy to work from home and be dressed as I'll thrown on a comfy dress and call it a day. In the winter it's a bit trickier, and I'm often tempted to go the leggings and oversized sweater route, but it leans a little bit too far into sweatpants territory at times. The above outfit is a perfect example of what I'll wear working from home to maintain a comfortable feel that is a little more polished. I've seen some great pieces on Ceiphers Clothing however I need to save money, rather than spend it on clothes!!
Boyfriend jeans are the most comfy style of jeans around and you won't have to worry about the waistband digging into you all day. A cozy sweater that is lightweight is great as well because it's comfortable yet still more professional than a t-shirt or a sweatshirt. This particular sweater I'll have for years as it's such a classic shape and of course, you can never have too much black in your closet. I love a good pair of flats for my days off when I don't need to be anywhere other than my home or out running errands. I think a pointed toe really makes any pair of flats look more edgy, so you'll find almost all of my flats have a pointed toe.
If you work from home, I'd love to hear what you wear as your "working from home fashion"? If not, let me know what you wear at the office to be feel the most comfortable? I used to wear a soft shift-style dress with a blazer on top to make it look professional.
Shop The Post:
Photos: Gabi Wells